Accreditation Statement and Credit Designation
CME-CPD Accreditation
CME/CPD accreditation application for the 55th Congress of the International Society of Paediatric Oncology will be submitted.
Further information will be provided in due course.
Commitment to the highest standards in CME/CPD
Kenes is committed to being a valuable and knowledgeable partner in the design and delivery of educationally strong, independent, transparent, and effective CME/CPD programs. Kenes is a proud member of the Good CME Practice Group (gCMEp), a member organization contributing to improving health outcomes by: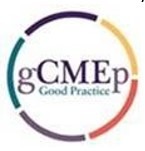 Championing best practices in CME/CPD
Maintaining and improving standards
Mentoring and educating
Working in collaboration with critical stakeholders
Membership in the Good CME Practice Group illustrates Kenes commitment to high standards and knowledgeable partnership with its clients in the design and delivery of medical events.